Get notified when new promo codes arrive from Uber
You will be alerted about deals at most once per week. You can always unsubscribe.
Popular Uber Coupon Codes & Deals
| Discount | Description | Expires |
| --- | --- | --- |
| TRYIC25 | Right now: Uber Intercity Rides - Save 20% | Oct 26, 2023 |
| UPAYTMAUG | Uber Paytm Offer - Get Up To Rs 75 Cashback | Oct 26, 2023 |
| 10M21V | Free Ride To & From Vaccination Centers | Oct 26, 2023 |
| UBERIND | 25% discount On 3 Rides (Selected Uber Users) | Oct 26, 2023 |
| NEWLITE | 50% off On 5 Uber Rides (Uber lite App) | Oct 26, 2023 |
About Uber
Uber is a revolutionary new cab service that uses a sophisticated app to connect drivers with customers, at prices much better than traditional taxi and car services. The privately held company is based out of San Francisco, California, United States, but is now in full operation is most major Indian cities - such as Delhi, Mumbai, Bangalore, Chennai, and more. To use Uber you must download the app for iOS, Android, Windows Phone, and Blackberry, and then add your payment method.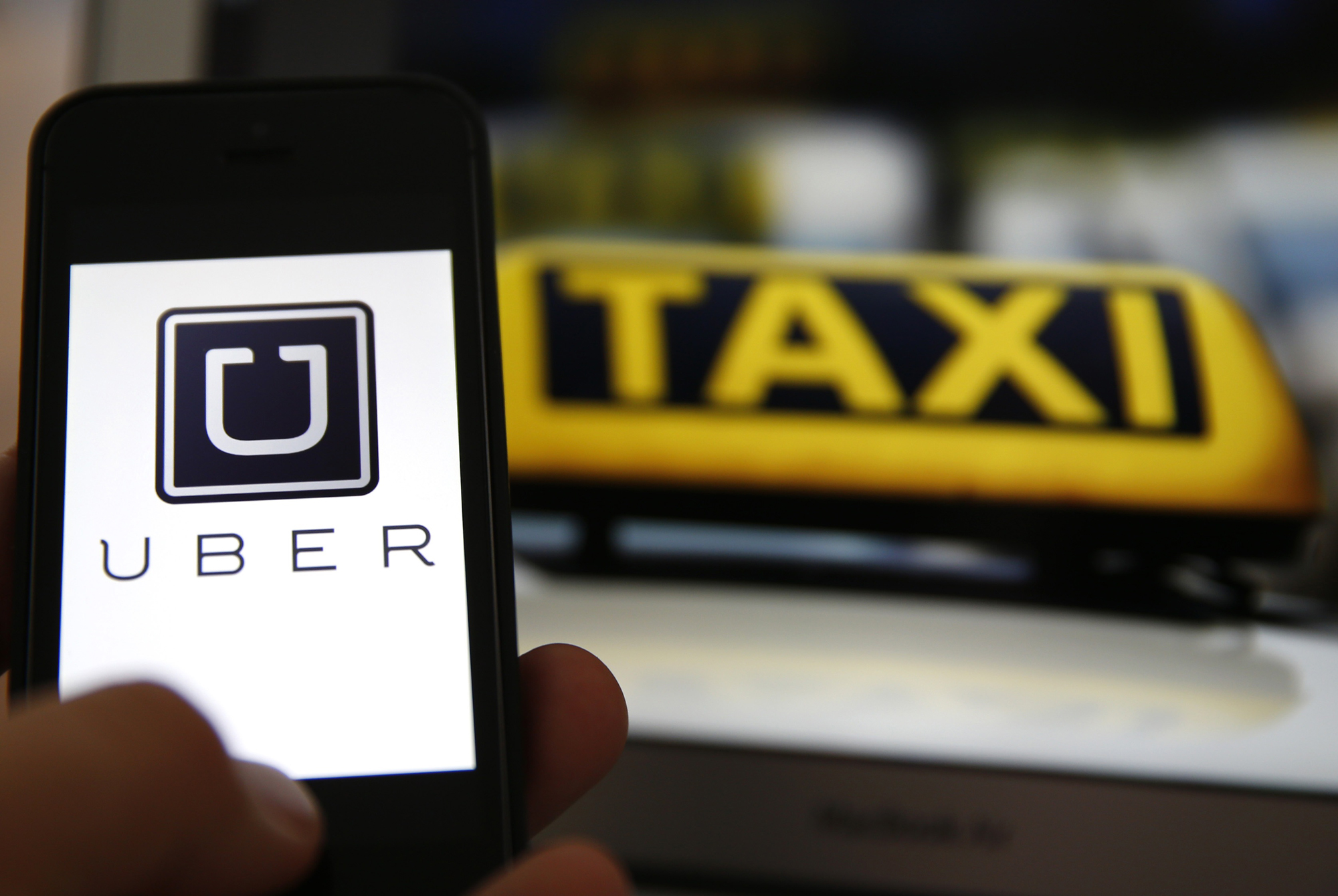 What makes the service so popular other than its flawless app and great rates, is the fact that you can make even further savings with special Uber coupons. At DealSunny we keep an updated list of these, so remember to check back before booking a cab, to ensure you make the most savings possible!
Uber was founded in 2009 by Travis Kalanick and Garrett Camp. It quickly revolutionized the taxi and car service industry because it allowed virtually anyone with a vehicle to make extra money by fulfilling the demand of users. Uber drivers simply use their own car and the app to connect with passengers in their area, and are rated based on their overall quality.
The company first rolled out their service in India in July 2014. To meet local circumstances Uber India began testing the use of cash payments in 2015, as many passengers did not have the means to pay digitally.
"Whether you're headed to work, the airport, or out on the town, Uber connects you with a reliable ride in minutes. One tap and a car comes directly to you. Your driver knows exactly where to go. And you can pay with either cash or card," reads their about page.
According to the latest data Uber is worth over $60 billion, with Kalanick still serving as CEO. They have over 6,000 permanent employees, and thousands of drivers working as independent contractors.
What Is Available At Uber
Uber is a modern app based replacement to traditional taxi cab and car hire services. It allows passengers in major cities to quickly book a cab from their location to a chosen destination, by pressing just a few buttons on their smart phone. The process is then much like any other cab service, with the driver striving to get you to your destination fast and comfortably.
Depending on what Uber promo code you choose from our list at DealSunny, you may be able to get discounts on your journey or even a completely free ride. We are always updating our offers, so if you see one that you want to use, be sure to use it as soon as possible. Clicking the link will reveal a special code which you can then easily apply within the Uber app during the journey finalization process. Uber as a company are the ones that offer the codes, so your driver will not be out of pocket.
Uber drivers are free to use their own vehicle, though this will almost always accommodate three passengers in the back and one in the front. In major locations there will also often be a larger people carrier vehicle available for those who need more seats. Alternatively you may want to book two separate Ubers.
Options are usually organized by UberGo (smaller and cheaper cars), UberX (regular 4 door), UberBlack (a higher quality vehicle), and UberSUV (for larger parties of passengers). Pricing is impact by the type of Uber vehicle you book. Sometimes there are also novelty options, such as a special sports car.
Drivers might also offer extra perks to make your journey more comfortable, such as bottled water, snacks, or a radio or music preference. This will be at their discretion. Some drivers may also have accessibility for the disabled, but this isn't guaranteed.
India is one of the new trial locations for UberMoto, which expands the typical Uber experience to scooters and motorbikes. This is ideal for lone passengers who want a fast and cheap ride, and do not mind sitting on the back of two wheels. Current prices are as low as Rs. 3/KM in Bangalore.
"uberMOTO is another step to help cut congestion in Bangalore by getting people out of cars when they don't need to use them," reads their official statement.
All UberMotor drivers are required to provide you with a helmet for safety. Other safety features are in place before, during and after every trip, including GPS tracking, 2-way feedback and the ability to share trip details with family and friends.
Uber Offers
Although Uber usually offers much better rates than a traditional taxi cab, they're always looking for new ways to reward new and existing users with special savings. Specific deals are always changing, so you are advised to check out our list at DealSunny whenever you plan on making a journey. Here are the general kinds of Uber Offers that you will find in our list and periodically while using the app.
Free Ride: From time to time you can get a completely free ride worth up to Rs. 700, which is enough to cover almost any journey.

Ride Discount: Instead of a free ride you can also often get a discount ride, such as x amount off or 80% off, for example.

Uber Coupons: These are special coupon codes that you apply within the app to redeem great discounts and other offers. Note that only one coupon can be used per ride, but they can sometimes be combined with other non-coupon deals for even deeper savings.
New User Offer: New users who have never experienced Uber before are commonly given some kind of special offer - sometimes the first ride is for free. This will be sent to you via email, SMS or as a window on the app.

Referral Program: Referring friends to Uber through the app can earn both you and your friend an Uber promo code for discounts and free rides.
As well as browsing through the offers at DealSunny, you might also find some great deals by following them on social media. They are active on Facebook, Twitter, and Instagram, among others.
How To Use Uber
Uber takes all of the hassle out of getting a cab, with no need to call a number or wait around to hail one down. While there is some functionality on the website, the best way to get started with Uber is to download the mobile app for Android (from the Google Play Store) or iOS (from the Apple App Store), Windows Phone (from the Microsoft Store) and Blackberry (from Blackberry World).
You will then need to sign up with some basic information, such as your name, mobile number, email, location data, and billing information. This allows the service to function fast and efficiently.
Using your GPS location, a map will show exactly where you are and where nearby drivers are as well. Likewise once you book a car or bike, the driver will also know exactly where you are. The first step is to choose the type of vehicle you want. You can then use your current location or mark a pin on the map for where you wish to be picked up. If something goes wrong you can easily ring or message your driver through the app. You will also be able to see the minimum fare and estimated time it will take to collect you.
Next you can set your destination. Again this is easily selected or entered on the map interface.
Now it's time for payment. Uber accepts several methods, including their own inbuilt wallet. This allows you to top up in advance. Alternatively you can use a common credit or debit card directly, such as Visa, Mastercard, American Express, Discover, Maestro, Diners Club, and others.
Other options include Google Wallet and Paypal, which allows you to use all kinds of cards and even funds directly from your linked bank account. In some Indian cities cash is also an accepted method, but this is not generally Uber's preferred method.
Once everything is finalized it's time to sit back and wait for your ride. It's important to stay at the location you entered for pickup, but if you have to move you can easily let your driver know. Likewise if the driver can't park close to you, you will be informed of their location.
Once you are dropped off at your destination the payment will be automatically made through the app, so there's no need to confirm with your driver. It's then time to rate the driver so other customers know what to expect.
Leaving Feedback
Part of what makes Uber such an efficient service is the feedback system. This allows passengers to rate their driver, which in turn informs other passengers of the service to expect and drives up standard all round.
It's also important not to be too picky. If the driver got you to your destination in a reasonable time and there were no issues, it's expected to leave a 5 star rating. Anything less than this could harm their ability to pick up passengers in the future.
Many drivers will try to stand out with extra features like music choices, bottled water, snacks and more. It is wise to mention these if you leave a full review, but this doesn't mean a standard driver who simply picks you up and drops you off doesn't deserve 5 stars too.
A lower rating might be left if the driver was very slow or late picking up, was rude in some way, drove dangerously, or didn't get you to your location.
Cancelling or Changing Your Uber
You are within your rights to cancel your Uber at any time if you change your mind and are unable to make the journey. You can do this easily within the app. Cancelling will however incur a small fee if the driver has already set-off to pick you up. This will be deducted from your refund.
You are also free at any time to change your destination, which again can be easily done within the app. Even during the journey you might ask your driver to change the destination. Depending on the distance, this will obviously change the cost.
Uber drivers might also accept multiple journeys, such as going to one destination to pick up a friend and then headed to another destination to drop you both off.
Refunds
Refunds are rare because the service generally runs smoothly, but if something major goes wrong there is a complaint option within the app and you can also leave negative feedback. In certain circumstances you may be issued a refund after Uber investigates the claim.
It might also be worth visiting a local Uber office to explain the situation, if you do not feel your complaint has been handled well through the app.
If you do get a refund, obviously this excludes any Uber coupons that you have used to get a discount.
Uber India Contact
If you wish to contact Uber India directly, you can do so via email by selecting your city on Uber.com and scrolling to the bottom of the page.
Before your journey you will also be in direct contact with the driver through the app.
Frequently Asked Questions
What If I'm Disabled or Have a Service Animal?
All Uber drivers adhere to local laws and regulations regarding disabled accessibility and the use of guide and service animals. Whatever is the standard procedure in your country is also standard with Uber. This includes but is not limited to accommodating walkers, canes, folding wheelchairs or other assistive devices to the maximum extent possible.
Should Or How Do I Tip My Driver?
Uber does not have an in-built tipping system and tipping is not required, however you may freely tip the driver in cash at your own discretion. If you have had a good experience, the best way to reward the driver is to leave a glowing review and 5 star rating.
Can Children Use Uber?
Children are permitted to use Uber if accompanied by an adult, but they are not allowed to use the app and ride by themselves. There must be at least one person over the age of 18 accompanying children.
Who Pays Tolls?
In most circumstances if your journey requires you to pay a toll on a road, bridge or similar, this will be automatically added to your fare. The driver might pay the toll, but this will be passed on to the rider.
Can I Request My Favourite Driver?
No, Uber functions by pinging nearby drivers who can fulfil your journey the fastest. There is no way to contact a specific driver directly, but if you're taking a common route that a driver frequents you may run in to them.
Can I Get Picked Up From X Location?
Any location that would usually be accessible to a taxi or private hire car can be accessed by Uber drivers, including major airports. If using Uber for an airport drop-off however, be sure to account for the time by booking your Uber long in advance of your flight. Uber is not responsible for missing your flight.
Can I Split The Fare?
If you are sharing an Uber with a friend, you can use the in-built split fare feature, so long as they also have the Uber app installed. Each rider is charged an small extra fee for using this feature.
Are My Personal Details Safe?
Yes, Uber is a secure app used all over the world. It uses the latest encryption technology and transactions are always passed through secure gateways. Uber will never sell or pass on your personal information to third parties.
How Do I Redeem Uber Offers?
Uber offers and deals come are available in several forms, many are simply automatically added to your booking providing you meet the terms. The exception are Uber coupons which must be entered in to the app before finalizing payment.
Comments