Get notified when new promo codes arrive from Zoom Car
You will be alerted about deals at most once per week. You can always unsubscribe.
More than 10% off at Zoom Car
Other Deals at Zoom Car
Popular Zoom Car Coupon Codes & Deals
| Discount | Description | Expires |
| --- | --- | --- |
| ALDBS50 | Hot! DIGI Bank Offer: Flat 50% cashback on Zoomcar | Jan 6, 2024 |
| ALWORKATION | Zoom To Workation - Up To Rs 6000 discount On Flights & Hotels | Jan 6, 2024 |
| ALKOTAK30 | Kotak Bank offer - Flat 30% off | Jan 6, 2024 |
| ZOOMNEW | 20% off On First Booking | Jan 6, 2024 |
| ALINZOOM | 25% discount On Zoomcar Rentals | Jan 6, 2024 |
Zoom Car Information
Zoomcar is a car rental service based out of Bangalore, India, that allows customers to hire vehicles to make journeys themselves instead of using a Taxi. This is marketed under the term "self-drive" but should not be confused with emerging self-driving car technology. Zoom car is a privately held company that operates in 9 cities. These are Bangalore, Delhi, Gurgaon, Mumbai, Hyderabad, Chennai, Pune and Chandigarh. Bookings can be easily made online at ZoomCar.com or via the mobile app for Android and iOS devices, and oyu simply pick up the car from the designated location.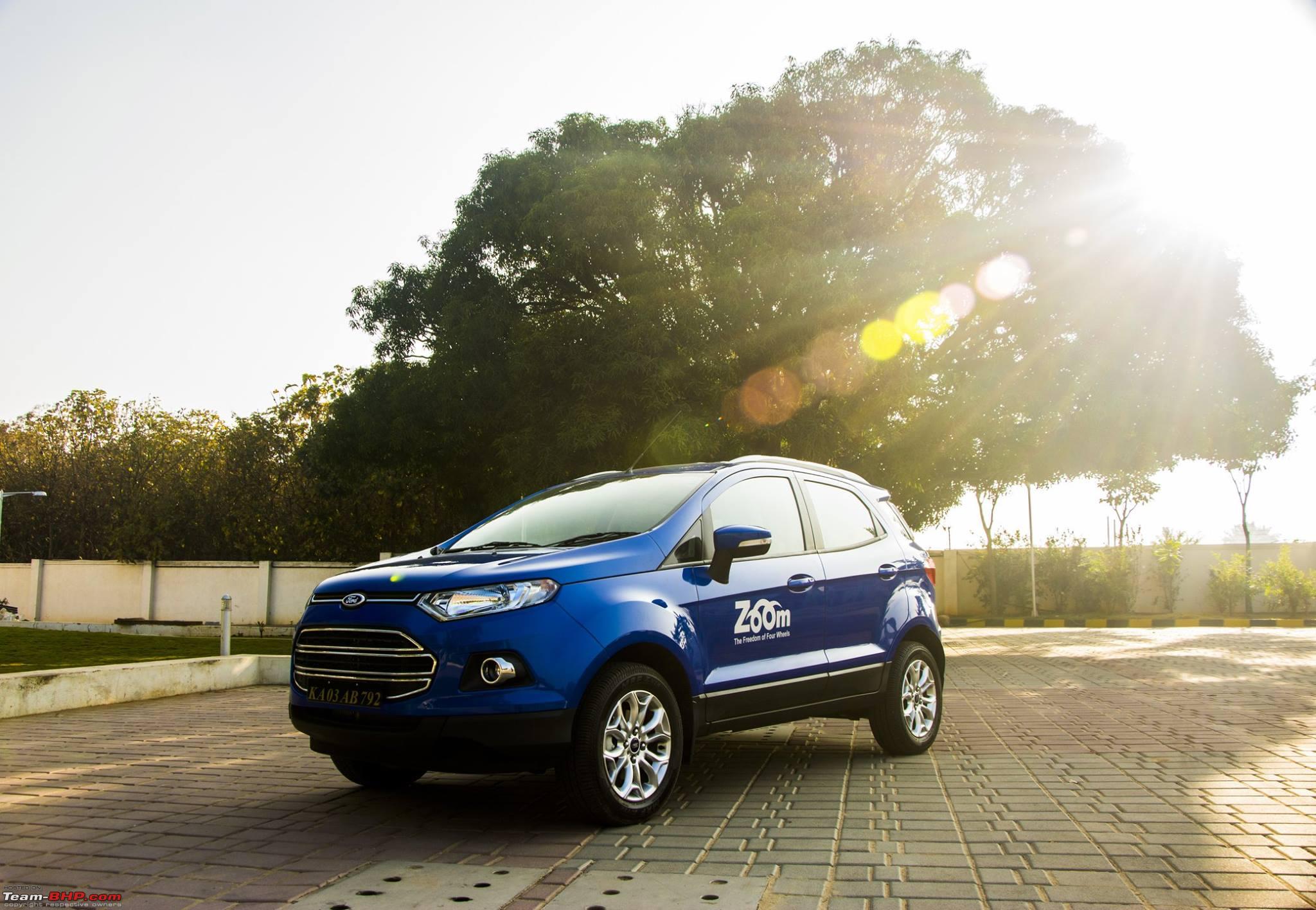 What helps make Zoomcar so popular is its great pricing by the hour and the fact that you can use a Zoom Car promo code to get a discount. We keep an up to date list of these right here at DealSunny, so you never have to waste time searching for a code that will work. Simply browse back her before hiring a vehicle to ensure you make the most savings possible!
Zoomcar was founded in Bangalore in 2010 by Greg Moran and David Back, both graduates of the University of Pennsylvania. Operations however didn't actually begin until 2013. The company grew from a fleet of a few hundred cars to over 1600, with options in all sizes and price ranges. Great savings can be made by using one of the many Zoom car offers.
They are currently partnered with the likes of Ford & Mahindra and were the first car rental company in India to offer an electric vehicle (the Mahindra REVA E2O).
"Sign up and book your machine, all on our site! You decide the duration, location, and car. It's all super easy," reads their about page.
What Cars Are Available
There are now a wide variety of vehicles available for hire through Zoom and a total fleet of 1,600, so there will always be the option you want. This includes Sedans, Compacts, SUVs and Luxury options. Models include the E20, Scorpio, Amaze, Swift, Figo, A Class, XUV, Safari, City, EcoSport, Ciaz (AT), 3 Series, GLA, Nano, CLA, Ritz, Zoom Auto, and Fortuner.
If you have a Zoom Car promo code you should be able to apply it to any of these vehicles unless the terms say otherwise. Be sure to check back to DealSunny to see the latest deals.
Most of the time you'll get any car you want. Of course, sometimes you'll get access to only a limited range of models and colors, but this rarely happens. When this is the case, you will be automatically prompted to choose a different car.
Whether you're on your own or bringing a large family, there is something for everyone at Zoomcar.
Have you ever considered giving a ZoomCar gift card to someone you love? The gift of traveling is priceless and you can make their experience much better. You can receive a real gift card or simply get the code by email.
How It Works
As long as you are over 18 years old, you can hire a car with Zoom very easily. After browsing the website you will be given directions to start a booking. The website is really simple and easy to use. When you are booking you car, you'll see the following options:
Site Pickup or Doorstep: The first means you have to go to one of the Zoom locations yourself to pick up the vehicle, while for an extra 300 they will deliver the car directly to your doorstep.

The start and end dates for your journey, which are the days you pickup and drop off the vehicle.

Which site you will be hiring from (i.e. the closest one to you or your journey). These include Bangalore, Delhi, Gurgaon, Mumbai, Hyderabad, Chennai, Pune and Chandigarh.

And finally the make and model of the car you wish to hire.
Alternatively you can download and use the mobile app for Android (Google Play Store) and iOS (Apple App Store). On Google Play the app is rated a high 4.3 stars out of 5, from over 21,000 users. In total between 1 million and 5 million people have installed the app, proving the growing popularity of the service.
You will need to become a member by registering with your personal info before making a booking, but this will be saved for future use.
Once you submit this information via the site or app you follow some easy steps to finalize the booking. This includes uploading a copy of your driver's license (either and Indian license of an International Driver's Permit). You will also have to pay a small deposit up front, while the final payment will be made after you return the vehicle.
On the day of the booking you will be sent a text message confirming your car's number plate and you can then unlock the vehicle yourself with a reply message or through the Zoomcar app for Android or iOS. The keys are found in the glove box.
You are free to travel anywhere within India as most vehicles come with a country wide permit, though a select few vehicles do not which will be noted on the site.
No pets are allowed due to possible allergies with the customer who uses the car after you.
All pricing includes insurance in case of an accident or malfunction, taxes and fuel costs. Charges may apply for returning the vehicle late, cancelling on the day of the booking, returning to the wrong site, speeding, and traffic fines. You may also be liable for any vehicle damage.
If you go on a long journey and need to refuel, you should hand in the receipt when you return the car to be reimbursed.
Flexi Plans
Because people need to rent cars for different types of journey, it is not always fair to charge the same exact rate. That's why Zoomcar offer Flexi Pricing alongside traditional rates, so you get the most out of your money. These three packages include Zoom Lite (120 KMS/DAY at 5 kms/hour), Zoom Classic (240 KMS/DAY at 10 kms/hour), and Zoom XL (360 KMS/DAY at 15 kmd/hour).
How far you will be driving and in what time, will determine the best Flexi Plan for you.
Other Services
As well as at their regular pick-up locations Zoomcar self-drive rentals are also available at airports across India. You rent the vehicle for the duration your stay and then drop it off back at the airport when you're flying home.
Zoomcar has now also introduced a Chauffeur service, which is much like a traditional taxi or car hire service. You choose your journey and an expert driver will take you there.
Payment Options
Zoomcar accept most common Indian and international credit, debit and cash cards for payment, including Visa, Mastercard, American Express, Maestro, Diners Club, and Visa Debit. You can also pay with net banking with most major banks. Payment can be made on the website or through the mobile app, via their secure gateways.
If you are redeeming any Zoom car offers that require a Zoomcar promo code, you should see a special box before finalizing the payment details where this can be entered. If valid you will see a confirmation message and the booking will be updated to reflect the terms of the offer, such as a discount. Note that only one of these can be used per booking, so make sure it's one that will make you the most savings!
Sometimes when you hire a Zoom Car you will be issued special credits that can be redeemed at a later date for discounts. This is their rewards program.
You can also use a Zoomcar gift card to contribute to your payment. Simply follow the instructions outlined in the e-Gift Card email.
You will need to bring your driver's license and the card you used to make payment on the day you pick up the vehicle to verify your identity if asked.
What Happens In An Accident or Breakdown?
If your vehicle breaks down or you are involved in an accident you must call Zoomcar right away on 080-60009666 and support staff will guide you through the rest of the process. They will arrange any roadside assistance that's required.
Zoom Car Offers
Zoom Car Offers come in a number of forms. Sometimes there will be temporary discounts applied as standard and you will not have to do anything to claim these. A Zoom car promo code on the other hand must obviously be applied manually to your booking.
The site also has a special section called Deal Shack that allows you to perform a search on specific cars and it will list all of the deals and discounts associated with them. While you may have had your heart set on a particular vehicle, if there's a deal on another why not go for it?
At the top of the page there is another link for offers. This time it will show all of the deals for your chosen city. For example one of the current deals is 30% off when driving at night, for bookings between 9pm and 9am. These are always changing so be sure to check the site and our list right here at DealSunny to see what's currently available.
Another way you can stay up to date with Zoomcar offers and company news is to follow them on social media. They are active on Facebook, Twitter, and Google Plus. They also have a blog on Blogger.
From time to time a booking will earn you special Zoomcar credits. These are stored in your online account in a "wallet" and can be redeemed at a later date for discounts. Credits can only be used on the checkout page to pay the booking fee, they cannot be used to pay security deposit, damage charges, extension fees, etc.
Here are some other common offer types:
App Exclusives: As a thank you for downloading the app, users are sometimes rewarded with exclusive offers that cannot be used on the site. So if you have an Android or iOS device, there's no reason not to get the app and benefit from savings.
New User: If it is your first time making a booking with Zoomcar you may be given a special discount. This can only be used on your first rental. Common offers include "the first four hours for free."
Regular Customer: If you are a regular ser of Zoomcar or use it to commute every day, you can purchase a special commuter package that will give you an overall discount.
Cancellations & Fees
You are permitted to cancel your booking at any time, but you are advised to do so before the day you're scheduled to drive. A regular cancellation involves an Rs. 200 fee. If you cancel with less than 24 hours before you're set to drive, you will be charged 50% of the booking amount.
If you return the vehicle later than agreed you will be charged an hourly rate, starting at Rs. 300. So you are advised to deliver the car early to be on the safe side.
You will be charged for speeding if you go over 125 km/hr. If you speed excessively they may blacklist you from hiring any car again!
Any refund to your card or bank can take between 5 and 15 days. If you opt for a refund in credit (Citrus Cash), this will show up in your online wallet within 24 hours.
What You Need To Know
If you hire a car from one location this where you must drop it off when you are finished. You will be fined if you take it to another Zoomcar location in a different area.

Cars are available in automatic and manual transmission, but only in certain models. You must make note of this while choosing the car you want.

While Zoomcar are not held liable if you leave your belongings in the vehicle, you can contact customer support to see if anything has been handed in.

You are not allowed to let anybody else drive your zoom car unless you add a co-driver to your order. If you have an accident and somebody else is driving you will not be covered. If you are tired they advise you to use a rest stop.

You cannot book a one way trip even if your destination has a zoomcar location.

You can only use one Zoomcar promo code at a time, so be sure to choose the one that will make you the most savings!
Frequently Asked Questions
How Is Fuel Charged?
All vehicles rented from Zoomcar will come with an initial full tank. If at any time you need to purchase new fuel, the company will reimburse you if you keep the receipt. You only pay for time and kilometres driven.
What Is The Breakdown or Accident Assistance?
All bookings include damaged insurance in case the car gets damaged or you are involved in an accident. Zoomcar also provides roadside assistance at any time of the day, so you will never be stranded or stuck paying for an expensive third party assistance.
Can My Rental Be Delivered To Me?
Yes, in most cases Zoomcar will be able to deliver your rental to you, so long as your address is within the cities currently served. You will however have to pay a fee of INR 300 for both car delivery and collection.
Can Somebody Else Drive The Car During My Journey?
No, the person whose name is on the rental is the only permitted legal driver. You can however add a co-driver to your booking if you wish to share the driving with a friend or family member. If a non-authorized driver causes damaged or is in an accident they will not be covered.
How Do I Redeem Zoom Car Offers?
Zoom Car coupons and offers come in many different forms. Many of these are automatic (such as regular sales and discounts) and you do not have to do anything special to redeem them. Coupons however must be entered in to the designated box during online booking before they are applied.
Comments