Get notified when new promo codes arrive from Zomato
You will be alerted about deals at most once per week. You can always unsubscribe.
Popular Zomato Coupon Codes & Deals
| Discount | Description | Expires |
| --- | --- | --- |
| ZOMATO | Grab Flat 50% on Orders From Zomato | Jan 6, 2024 |
| YUMAZING | 50% off (Select Restaurants) + Free Shipping | Jan 6, 2024 |
| WELCOMEBACK | 30% off on Select Orders | Jan 6, 2024 |
| GOBIG | Upto Rs 150 off on Select Restaurants + Free Shipping | Jan 6, 2024 |
| MAXSAFETY | 30% off on Select Restaurants | Jan 6, 2024 |
About Zomato
Zomato is a leading restaurant menu aggregator, food ordering platform and table booking service, based out of Gurgaon, Haryana, India. The privately held company provides and website and app that allows users to search for local restaurants, view their offerings, and in some cases book a table or have food home delivered. Zomato either acts as an information middle man or full blown sales system, depending on their partnership with the establishment.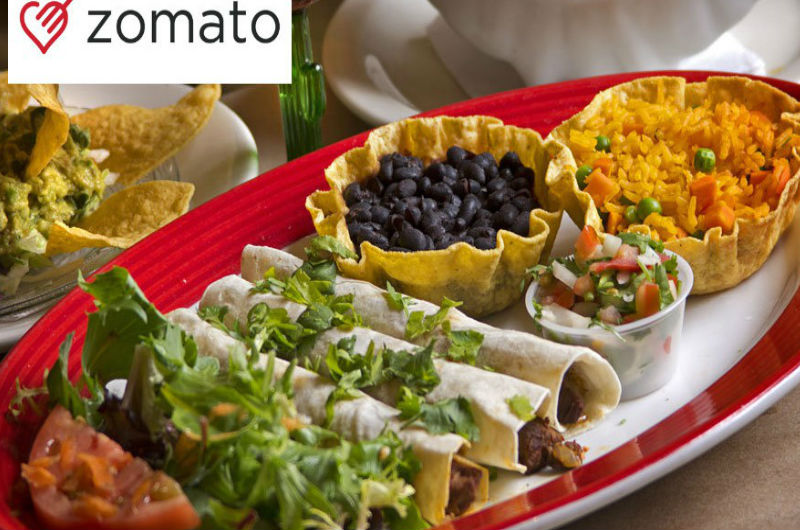 One of the reasons the platform is so popular is that they provide special offers and deals that allow users to get money off their meals that they wouldn't ordinarily get. These are commonly redeemed with Zomato coupons, a list of which we keep up to date right here at DealSunny. So before parting with your cash remember to come back to this page to see what's available. You are sure to make great savings no matter what you choose!
Zomato was founded in 2008 by Deepinder Goyal and Pankaj Chaddah. Back then it was known as Foodiebay and was restricted to the intranet Bain & Company. They observed that staff would waste time queuing in the cafeteria, trying to read the day's menu and choosing what to have. To solve this they uploaded the menus to the company network so everyone could choose in advance. They then spun this idea off in to a whole new company and began providing online menus for restaurants across Delhi NCR, Kolkata and Mumbai.
Today the service covers establishments across India, as well as in Australia, United States, Canada, Chile, Czech Republic, Indonesia, Ireland, Italy, Lebanon, New Zealand, the Philippines, Poland, Portugal, Qatar, Slovakia, South Africa, Sri Lanka, Brazil, Turkey, United Arab Emirates, United Kingdom, and Malaysia.
Today you can find Zomato at Zomato.com with apps for Android, iOS, Blackberry, and Windows Phone.
"Our team gathers information from every restaurant on a regular basis to ensure our data is fresh. Our vast community of food lovers share their reviews and photos, so you have all that you need to make an informed choice," reads their about page.
What You Can Find At Zomato
The Zomato platform has three primary functions, allowing the user to find up to date menus and info for restaurants, cafes and bars in their area (or defined area), allowing the user to book tables at partner establishments online, and allowing the user to order food online from partner establishments for prompt home delivery. They have databased over 1 million restaurants across the globe, in 23 countries and 10,000 cities. They serve over 80 million people every month, and the platform generates 30 million photos and 10 million reviews. The menus available cover every imaginable type of food, from fine course cuisine to fast food and snacks. The community of users who rate and review, will also help you decide the best options.
In India some of the current trending restaurants include: Glocal Junction (North Indian, Continental, European), The 13th Floor (Asian, North Indian, Thai), AB's - Absolute Barbecues (European, Mediterranean, North Indian), Hakuna Matata (North Indian, Asian, Seafood), Farzi Cafe (Continental, North Indian), Three Dots & A Dash (European, Continental), The Sugar Factory (finger food) and many others.
Categories you can search by include Breakfast, Lunch, Dinner, Drinks & Nightlife (Shisha Lounges recently added), Cafes, Pocket Friendly Delivery (snacks, coffee etc), Buffet.
The site and app also allows you to browse the top reviewers in your area, food photographers (who take pictures of the local establishments and orders), and top bloggers (who write longer reviews).
You can also read their blog, which is full of company news, foodie topics and other interesting subjects.
Zomato Offers
Although they already allow you to price compare Zomato are constantly treating customers to special offers and deals. These range from everything from discounts and cashback to coupons, so remember to check back to DealSunny to see what's available before using the service. Although the specific promotions are always changing, here's a good idea of what you'll find over time:
New User Discount: If it is your first time placing a delivery order through Zomato they will offer you up to 15% off when you use an online payment method. Simply register and account and place an order, and the deal will be added during checkout.
Zomato Coupons: Whether it's money off, cashback, a free snack or something else, these special codes can be redeemed by entering them during the online checkout process. Note that only one can be used per order, but sometimes they can be coupled with non-coupon offers to make even more savings!
Cashback: If you use certain payment platforms such as Paytm you can get up to 20% cashback to your digital wallet.
App Exclusives: App users are often rewarded with exclusive offers, so if you have an iOS, Android, Blackberry or Windows device, there's no reason not to download the app and benefit from the savings.
Table Deals: These offers are reserved for table bookings and are offered by the restaurants themselves.
As well as checking back to DealSunny to find all the latest Zomato offers, you might also like to sign up to their email newsletter that will be periodically sent out with exclusive deals and coupons, along with company news. You might also find some exclusives by following them on social media. They have profiles on Facebook, Twitter, and Instagram.
How To Use Zomato
Using Zomato to find establishments, book tables or order food is very simple. Before proceeding you should register an account with your email address and personal details, so you can accomplish what you want faster. Everything will be saved for future uses.
First you will need to decided whether you want to browse to the website Zomato.com with your browser or use one of the mobile apps. You can get the Android app from the Google Play Store, iOS app from the Apple App Store, Blackberry's version from Blackberry world, and the Windows Phone version from the Microsoft Store. The Android version has a high user rating of 4.3 stars out of 5 from over 177,000 reviewers.
The first thing you will want to do when you fire up the app or load the website is to set your location. You will then only be shown restaurants and establishments in your vicinity.
The main search function simply allows you to enter the name of a restaurant if you have a favorite or know of a chain, or the cuisine or dish you fancy eating. You will then be shown a list of options that are in your areas. Some of these will simply show the menu and phone number, others will allows you to book a table online, and some will allow you to order food online for delivery. You can easily sort them according to these options, as well as the type of food and other parameters.
Alternatively there are also similar search functions dedicated to booking tables and home delivery orders, so you don't have to waste time sorting the results.
Here are just some of the features you can use:
Search easily for Restaurants, Cafes, Night life by location, food type (e.g. Chinese, Italian, Indian), or name (e.g. McDonalds, Cafe Coffee Day). You can also use a map view and draw circles to restrict your search.
Explore all the options in your area and use search filters to find an establishment that best suits your tastes.
View full color menus, official and user shared pictures, restaurant phone numbers for orders and table bookings, directions, user reviews, and tonnes of other useful information.
Browse the app's intuitive lists for your area, such as "best burger" or "tastiest sea food" with an interesting editorial insight from bloggers and writers.
Make your own lists and favourites and share them with other users, or use them for your own purposes.
Rate and review restaurants so others are informed, and share photos of your food so customers know what they're really getting.
Use the in-app table booking (select locations) – you can view and book yourself a table at all partner restaurants. Includes Passbook support for easy access to your booking details.
Payment Options
If you order food online for home delivery from an official Zomato partner, there are a range of payment methods available to you.
Cards: Use any Indian Credit or Debit card through their secure gateway, including Visa, Visa Debit, Mastercard, Maestro, American Express, Diners Club and others. You can also use Indian cash/atm cards from the major banks.
Net Banking: This allows you to use funds directly from your Indian bank account.
Paytm: This is a mobile wallet app that allows you to process cards and other payments or use a positive balance. One benefit is that you can get cashback.
Cash On Delivery: This simply means paying the delivery boy when your order arrives with cash. They will then relay back to the restaurant and your order will be marked as complete.
Just before you enter your payment details for online orders you will see a special promo box. This is where you can enter any Zomato discount coupons to save money. Simply type or paste it in and you should see a confirmation message. Your order will then be updated accordingly, for example if a discount is applied your total order cost will decrease. Only one coupon can be used per order so be sure to use the one that will make you the most savings.
Food Delivery
The time it takes for your food to be delivered will vary from restaurant to restaurant, however beside each menu you will see their estimated time. You will also see other info such as the minimum order amount.
All restaurants will aim to deliver you food hot, fresh and secure, but if there are any major issue you will see this reflected in their rating and review.
If your order is late or hasn't arrived the app provides the contact details you'll need to address the situation.
Complaints
Unless you're having an issue with the technology of the app itself (such as your Zomato coupons not registering), all complaints should be made to the individual establishment. Zomato is not liable for any poor service you may experience.
Comments