Get notified when new promo codes arrive from Cleartrip
You will be alerted about deals at most once per week. You can always unsubscribe.
Freebies at Cleartrip
Popular Cleartrip Coupon Codes & Deals
| Discount | Description | Expires |
| --- | --- | --- |
| CTNEW | Hot! Flat 500 Off per passenger on your 1st Flight Booking | Jan 6, 2024 |
| TRVLNOW | Up To Rs 25000 Cashback On International Flights | Jan 6, 2024 |
| CTHDFC2021 | Right now: Cleartrip HDFC Bank Offer - Upto Rs 10000 Cashback On Flight & Hotel Bookings | Jan 6, 2024 |
| FLIGHT | Book a Domestic Flight & Grab up to Rs 1500 Discount | Jan 6, 2024 |
| CTENG | Rs 1500 Off on Domestic Flights & Hotel Bookings | Jan 6, 2024 |
About Cleartrip
Cleartrip is a leading online travel booking service, based out of Mumbai, India, which serves domestic and international flights. The privately held company is an online only business, that allows customers to book flights, hotels, resorts, transportations and combined packages, through a simple web interface. The site can be found at Cleartrip.com and they also have an app for iOS, Android, Windows, and BlackBerry devices - all of which can be downloaded directly from their respective app stores.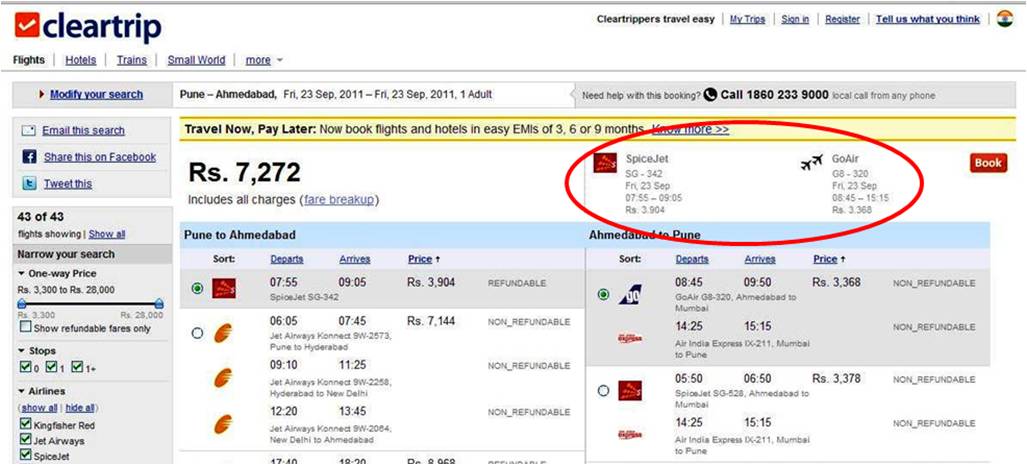 What makes Cleartrip a particularly popular choice among travellers is the amount of special offers and deals available, that allow them to make savings. These are commonly redeemed with Cleartrip coupons, a list of which we keep up to date right here at DealSunny. Simply make sure to browse back here before making a booking to ensure you get the most savings possible!
Cleartrip was founded in the 2006 by Stuart Crighton (current CEO) and Hrush Bhatt (current Director of Product & Strategy). Their sole aim and company slogan is "Making Travel Simple," and this is what has allowed them to succeed. They became India's Best Travel Website the first year in operation, as named by PC World's Best Indian Websites Awards. In 2014 the iOS mobile app was an Editor's Pick on the Apple App Store.
Initially Cleartrip was a domestic travel company but has since opened bookings to and from the Gulf nations of Oman, Qatar, Kuwait, Bahrain, and Saudi Arabia, as well as destinations to and from all over the world. Today the company has contracts with over 15,000 hotels, as well as major airlines and transport services.
Cleartrip has also launched "Cleartrip for Business," an online corporate travel management tool that helps companies arrange travel for their employees.
"We come together each day to fulfill a promise of offering the single most comprehensive travel experience to users, through award winning Mobile and Desktop solutions," reads their about page.
What Can You Book At Cleartrip?
Cleartrip functions as an all encompassing online travel agent, allowing you to book Flights, Hotels, Resorts, Holidays, Buses, Trains, Cars, package deals, weekend getaways, and round trips involving multiple different types of booking. They cater to both individuals and corporations, the latter which have access to several tools to help manage the process of booking large numbers of flights and accommodation.
Depending on which Cleartrip promo code you use, you may be able to get a discount on any combination of bookings, or specific bookings only - such as a certain hotel or destination. Be sure to check back to DealSunny to see what offers are currently available, and click the link to reveal the exact terms and how to redeem the coupon.
Cleartrip allows you to book destinations in all major Indian cities, and now locations all over the world as well. Popular domestic destinations include: Goa, Mumbai, Bangalore, Chennai, Nainital, Jaipur, Manali, Shimla, Pune, Hyderabad, Mahabaleshwar, Ooty, Kolkata, Matheran, Shirdi, Agra, Mysore, Munnar, Delhi, Kodaikanal, and many others.
Popular international destinations include the UK, United States, Argentina, Brazil, Czech Republic, Denmark, Egypt, France, Gambia, Honduras, Italy, Jamaica, Kenya, Luxembourg, Morocco, New Zealand, Oman, Pakistan, Qatar, Russia, Sri Lanka, Thailand, Venezuela, and many others.
They also work with all major domestic and international Airlines, including Air India, GoAir, IndiGo, Jet Airways, Jet Konnect, JetLite, Kingfisher, SpiceJet, Vistara Airlines, Air Costa, Zexus Air, Zav Airways, Turbo Megha Airways, Air Carnival, Premier Airways, Air One, American Airlines, Delta Airlines, Emirates, Air Arabia, Air France, Malaysia Airlines, British Airways, Air New Zealand, China Eastern Air, and many others.
They cater to both individuals and businesses, with Cleartrip for Business, an online corporate travel management tool. So far over 2,000 small and medium businesses regularly use the service to get their employees and corporate figureheads where they need to be.
Cleartrip also serves India's large travel agency base with their proprietary Agent Box tool. If they use the service, travel agents will receive commission on each booking.
If you want to offer somebody the gift of travel you can also purchase a Gift Card which they can redeem on the site for their own choices of travel.
Using Cleartrip
Cleartrips motto is "Making Travel Simple," and they certainly accomplish this with their easy to use website and mobile apps that you can get from the Apple App Store, Google Play Store, BlackBerry World, and Windows Store.
Before completing a booking you will need to register an online account. This only takes a few minutes, but once you have provided your personal details they are saved for future use and you can manage all of bookings easier.
The service is organized in to four main search functions: Flights, Hotels, Flight + Hotel, and Trains.
If booking a flight, all you have to do is select whether you want a One Way, Road trip, Multi-city trip, or Flight + Hotel package. You then enter the City or Airport you wish to depart from, the City or Airport you wish to arrive to, and the date(s) you wish to travel. You should also choose the number of adults, children and infants going on the trip. Added options include Class of travel (Economy, First Class etc), and your preferred airline.
Once you have entered all of the information, it will return all of the options available to you and their prices. Simply click the links to explore further details for each option, and when you find one you like you can go through the easy booking procedure.
The search function for Hotels and Trains is similar, and there is also a dedicated page for booking Activities at your destination.
Before everything is finalized Cleartrip coupons can be entered in to a special box. Note only one code can be sued per booking. You can use the coupons from our list here at DealSunny or from any other source.
As well as the booking options, once you've registered an account you can also use the Manage Trips page to help you plan and organize your trip.
If you sign up to their newsletter you can choose to register for Fare Alerts, which allows you to keep track of airfare fluctuations for your chosen sector and travel date. This will help you get the best deal possible.
Other features available on the Cleartrip website and apps include:
Fare Alerts: Allowing you to monitor the cost of airfare in real time, locking in the price you want with a few swipes or clicks.
Expressway: If you are a regular user of Cleartrip and know what you want, Expressway allows you to make bookings based on previous payment methods and choices with one click.
Passbook: Passbook is a feature on iPhone that allows you to book flights and other tickets without having to print or acquire physical copies.
Quickeys: Hotels that have had cancellations or are not fully booked for the night will often drastically reduce the price to ensure that they still make some money on the vacancies. This feature allows you to search these last minute deals so you can get a bargain.
Waytogo: This is Cleartrip's proprietary journey planner, allowing you to collate all of your flight and travel information in to one easy display, so you know exactly where you need to be and how you're getting there.
Pay @ Hotel: If you select this option during online checkout you will not have to pay for your hotel until you arrive or checkout. Your payment details will still be placed on file however.
Cleartrip Offers
Cleartrip already has great prices on travel bookings, but you can make even more savings by using one of their many offers. DealSunny keeps the most up to date list of these on the web, but because they are always changing here's a general idea of what you will find:
Daily Deals: These are constantly changing, but always help you make some kind of savings. Thrilling Thursday for example recently offered up to Rs. 1200 cashback on domestic flights!

Cleartrip Coupon Codes: These are special codes that you can enter on the site before finalizing your booking. You can only use one Cleartrip promo code per booking. Remember to check DealSunny for all the latest coupons.

Rewards Program: The Cleartrip rewards program allows you to get free travel, activities and accommodation when you have made a certain amount of bookings over a certain price. The more you use the service the better rewards you get.

Last Minute Discounts: Cleartrip's platform allows you to find last minute price reductions on hotels and other travel bookings, so if you're a free spirited traveller you can always find a bargain.

App Exclusives: If you download one of the mobile apps you will be rewarded from time to time with offers that cannot be redeemed on the site. So if you have an iPhone, Android, Windows or Blackberry device, be sure to get the app so you don't miss out on these savings.
Cashback: If you use your online wallet or other promotional payment methods, you can get up to 70% cashback on hotels. Other cashback deals rely on you making certain bookings, such as international flights.

New User: If you are a new user that has only just registered you may be served a popup or email with an exclusive offer to make you savings on your first booking.
As well as checking back to DealSunny for all the latest offers, you can also stay up to date by visiting the Cleartrip deals page or following them on social media. They are active on Facebook and Twitter.
Payment Options
Cleartrip offers a wide variety of payment methods so everyone can easily use the service. Perhaps the easiest method is to pay at the time of booking with your Indian issued Credit, Debit or Cash card. This includes Visa, Visa Debit, Mastercard, Maestro, American Express, Diners lub, and cards issued by most major Indian banks. You can also pay using Net Banking via most major Indian Banks, including ICICI, HDFC, and others.
Equated Monthly Installment (EMI) is also accepted, with 3, 6 or 9 month tenure options. This means the payment is split equally between the number of months chosen and is a great option if you don't want to pay for everything up front.
You can redeem a Cleartrip gift card for the full cost or partial amount of your booking, with any remaining bill paid with another accepted method.
If you wish to redeem any Cleartrip offers via coupon code, all you have to do is enter the code in to the designated box before you finalize online payment. If valid you will see a confirmation message and the total cost will decrease accordingly. Only one coupon can be used per booking, but sometimes these can be combined with non-coupon deals for even deeper savings!
Confirmation
All of your bookings will be confirmed within your online account and you will also receive an email and/or text message with all of the details as well, depending on your account preferences. Cleartrip offer both paper flight tickets and digital tickets. For digital tickets you are given a link and must download them to your PC to print or print them directly. E–tickets will be available here approximately 30 minutes after you make the booking, so you must be prepared to bring right away.
Paper tickets are sent via Blue Dart courier, usually within 3 business days.
If you have an iPhone you can also use the Passbook feature to carry your e-tickets.
Hotel reservations will require a form of ID and your confirmation email to check-in, with similar procedures for transport bookings.
Cancellations and Refunds
You can cancel flight reservations very easily from within your online account. Simply go through your booking history and click the cancellations link. Here you can choose which passengers to cancel, or to cancel the whole booking completely. You will then be issued a refund within 24 hours, which can take up to 14 days to fully process. This will cost you an Rs. 250 cancellation fee.
Whether there is an added cancellation charge and how much this will be depends on the individual airline's policy.
If you opted for paper tickets, you will have to send the company the tickets physically to the following address before they can start processing your refund:
Cleartrip
Unit No 001, Ground Floor, DTC Bldg,
Sitaram Mills Compound, N.M. Joshi Marg,
Delisle Road,
Lower Parel (E)
Mumbai - 400013
Obviously if you have used any Cleartrip coupons to get a discount, you will only be refunded the actual amount charged after the code was applied, rather than the regular cost.
Contact Cleartrip
If you wish to contact Cleartrip by phone you can call the customer services line. In India this is +91 9595 333333. For the full list of contact numbers for each country, visit the contact page on the website. There are also a range of email addresses depending on your type of query.
Cleartrip also has offices in Mumbai, Bengaluru, Gurgaon, and in Dubai in the UAE.
Frequently Asked Questions
My Flight Was Cancelled, How Do I Get A Refund?
To ensure you get a prompt refund if an airline cancels a flight booked through Cleartrip, you should log in to your online account and cancel the booking and then email your details to [email protected].
How Do I Get An Invoice?
If you require an invoice for your bookings you can easily download and/or print these from within your online order history.
Is Booking Online Safe?
Yes, Cleartrip utilize industry standard encryption technology to ensure that your personal data is safe, and will never sell or pass your info on to third parties without your permission. They make use of secure online payment gateways to protect your card and bank details when making payment.
How Do I Apply Cleartrip Offers?
Cleartrip offers are applied in many different ways, depending on the offer itself. Some of these (such as standard discounts) will be automatically applied during the booking process. Cleartrip coupons however must be entered in to the designated box before you finalize payment.
Comments